Shopify Inc. provides a cloud-based commerce platform. Merchants can sell products form the platform to anyone around the globe. It has built-in marketing tools that help users create, execute, and analyze campaigns on Facebook and Google. Orders, shipping and payments can be managed from a single dashboard.
The company targets mostly small and medium sized businesses. Their targeting of merchants instead of consumers differentiates them from competing e-commerce platforms (like Amazon and EBay). E-commerce shares about 10% of retail sales after some 20 years since the first e-commerce service. This ratio is expected to increase as more people adopt electronic spending. Shopify makes it possible to use social media apps as a sales channel.
Their partnership with Google will allow the company to easily and cost effectively reach a wider global market through advertising. They recently launched a network that allows merchants to deliver their products fast and at low cost. Some known names that use the service include Adele, Lady Gaga and Kylie Jenner.
We hold this share in our international bundle. It has performed relatively well. The year to date return is a positive 130%; compared to the S&P500 at 17%.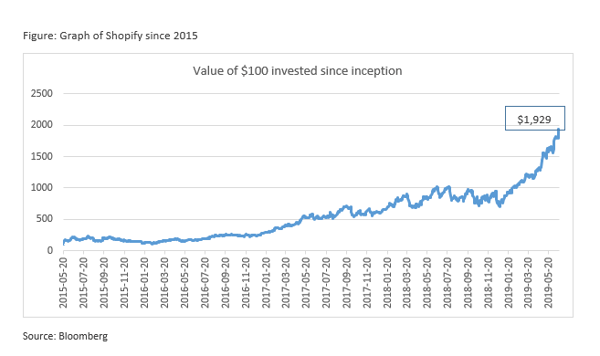 Until Next Time