Emperor has had a high commodity exposure in its portfolio from last year, at the beginning of this year our models highlighted an investment opportunity in gold vs other metals such as platinum and this has borne out very well this year.
Before we get into this note, it is worth understanding how Emperor creates portfolios. Emperor is a data driven, algorithmic asset manager. What this means is that we utilize technology to shift through and analyze data in the market, this can be both technical stock market data such as changes in price and volatility and could be fundamental data such as changes in companies' free cash flow generation, book value, reported earning etc. We arrived at our investment allocation through this algorithmic process.
Below is a short note where we explore 3 gold companies that Emperor is currently interested in. All 3 companies have a primary listing on the JSE. We have a 49% exposure to basic materials in our equity portfolio – of our materials exposure DRD gold makes up 26.7%, Anglogold Ashanti 9.8% and Sibanye Stillwater 7.5%. Year to date DRD Gold is up 241.9%, Anglo 90.5% and Sibanye Stillwater 37.9% (see graph at the end of the note).
Operations:
Sibanye-Stillwater is the largest individual producer of gold from South Africa and is one of 10 largest gold producers globally. Sibanye-Stillwater is also the third largest producer of palladium and platinum.
The group grew from the initial endowment of mature SA gold mines into a leading global precious metals company that is diversified both geographically and into different commodities. Sibanye owns 50.1% of DRD Gold Ltd as of January 2020.
Regions: United States, Southern Africa
Uses: Automobile catalysts, jewellery, fuel cells, hydrogen purification, electronics
Revenue: 37% US Operations, 63% South Africa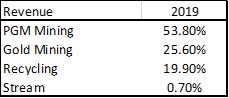 AngloGold Ashanti is the third-largest gold mining company in the world, measured by production. While gold is their principal product, they also produce silver (Argentina) and sulphuric acid (Brazil) as by-products.
Regions: Headquartered in Johannesburg and has 21 operations in 4 continents
Revenue: 88% international Operations, 12% South Africa

DRDGOLD is a JSE-listed gold producer and specialist in the recovery of metal from the retreatment of surface tailings. DRD does not engage in the underground mining of precious metals - they re-process mine dumps for gold. DRDGOLD is the only South African mining company focused solely on the retreatment of surface gold tailings.
The group only has their operations in SA but service clients globally.
Revenue: 100% South Africa

Comparing Financials:
DRD Gold has a very low debt to equity (As at 30 June 2019, the borrowings of DRD Gold were R0) and they have a high ROE. Return on equity (ROE) measures how effectively management is using a company's assets to create profits. The debt-to-equity ratio (D/E) is a measure of the degree to which a company is financing its operations through debt versus wholly owned funds.

The lower Price-to-Free Cash Flow Ratio and low Price-to-book on Sibanye shows its more of the value player. Free cash flow (FCF) represents the cash a company generates after accounting for cash outflows to support operations and maintain its capital assets. Low P/FCF ratios typically mean the shares are undervalued and prices will soon increase.

Anglogold Ashanti produces the most gold at a relatively lower cost. Production for Fy 2019 was 3,281 (Oz '000), Sibanye 932 (Oz '000), and DRD 155 (Oz '000). Sibanye is more of a diversified resources company – gold only makes up about 25% of their revenue, while Anglo and DRD's main focus is gold.
Graph: 2020 returns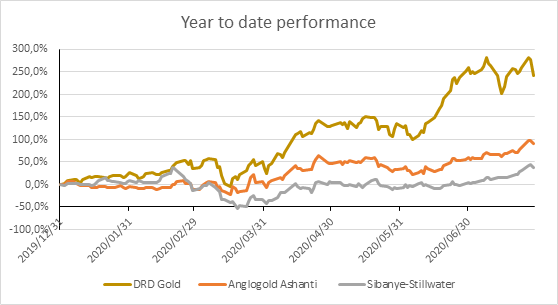 Final thoughts
Emperor Asset Management continues to monitor these stocks together with the portfolio in total and invest in companies that show momentum, quality, low volatility and value. Diversification between building blocks enhances returns and optimises risk. Our process determines the optimal portfolios for investors based on their risk preference, whether conservative, moderate, or aggressive. The Enhanced Equity portfolio is up 14.7% this year vs the Top 40 index which currently sits at 2.8%.
Disclaimer:
Terms and conditions apply. Emperor Asset Management (Pty) Ltd is an authorised financial services provider (FSP no. 44978). The value of a financial product can go down, as well as up, due to changes in the value of the underlying investments. An investor may not recoup the full amount invested. Past performance is not necessarily an indication of future performance. These products are not guaranteed. This document is for information purposes only and does not constitute or form part of any offer to issue or sell, or any solicitation of any offer to subscribe for or purchase any particular investment. Opinions expressed in this document may be changed without notice any time after publication. We therefore disclaim any liability for loss, liability, damage (whether direct or consequential) or expense of any nature whatsoever which may be suffered as a result for which may attributable directly or indirectly, to the use of or reliance upon the information.