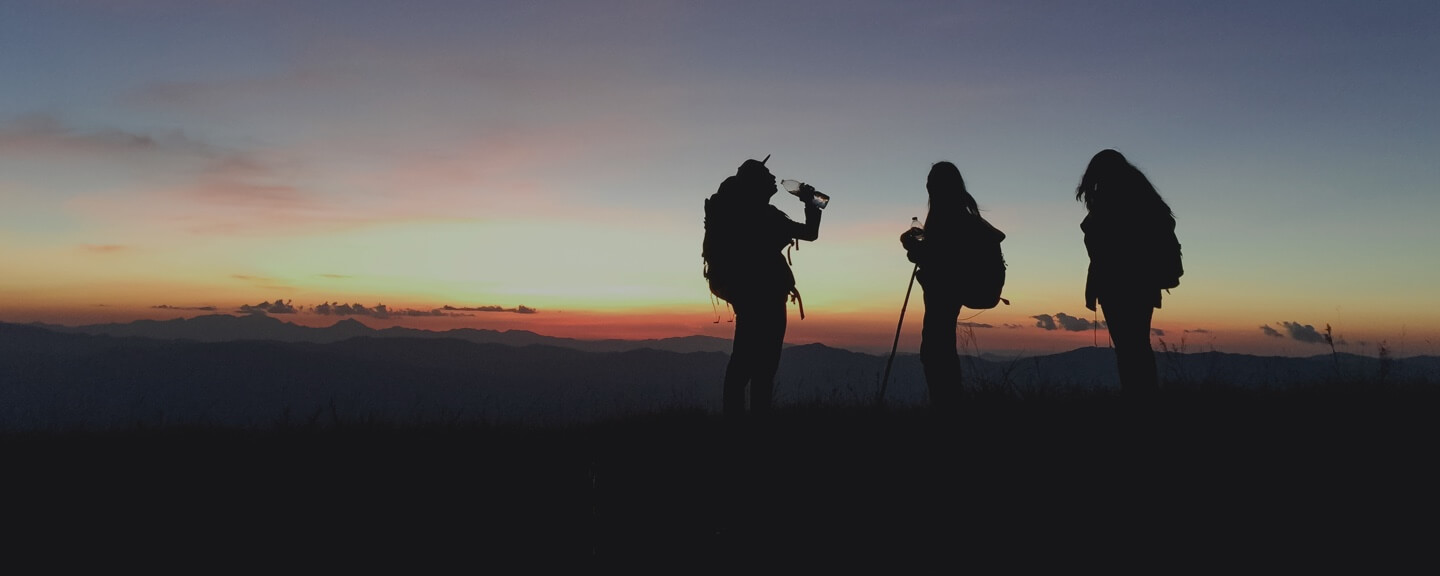 August 2018 Market review
Anyone who was invested in US markets in August, particularly in the technology sector, would be extremely delighted with the performance of their portfolio. Local markets, too, took heart from their global counterparts and at least look like they could break out of what is becoming a frustrating long-term holding pattern.
It is a very exciting time for Emperor at present: a new look for our website, a careful tactical overhaul of our investment strategy, and the launch of a fresh range of bundles, retirement annuities, and what we call "building blocks" that help you design a portfolio exactly to your needs.

While equities didn't exactly shoot the lights out in August, the 2.2% gain in the JSE All Share index gave us some heart. Although the index is still down 1.4% for the year, there are signs of a pickup in appetite for local stocks. This is despite the Trump-led rhetoric concerning trade tariffs, and ructions in Turkey and other second-tier financial centres, which knocked emerging markets by another 2.96% during the month, bringing losses for the year to nearly 8%. A similar pattern played out in the UK, Europe and Hong Kong, all of which disappointed in August.
This underlines the importance of choosing investment jurisdictions with care, taking advantage of buoyant US tech, for instance, and avoiding too much currency risk in countries affected by political and economic upheaval. In this respect it is quite amazing that South African markets held up pretty well considering the ongoing uncertainty surrounding land reform and other government proposals, particularly as regards the mining and telecommunications sectors.

Turning specifically to the JSE, it was nice to see Basic Materials and Consumer Goods holding up well, with Healthcare leading the pack and Industrials continuing to gather strength after a tough year. In stark contrast to the US, local telecoms and technology took strain. We can only hope that MTN sorts out its troubles in Nigeria, and that Vodacom and Telkom pick up some of the slack lost during August.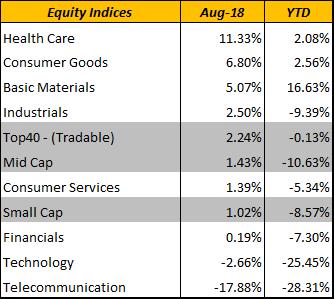 Stocks worth noting were Bidcorp and Bidvest, up for the month but still having to build momentum after a sticky first six months of the year. Most notable of all is Mondi, one of the star stocks of the JSE for both 2018 and August. The downside, apart from telecoms, was a mixed bag, from Gold Fields to Standard Bank and Shoprite, showing no clear trend in investor sentiment. Tiger Brands continues to struggle with the fallout from the listeriosis tragedy.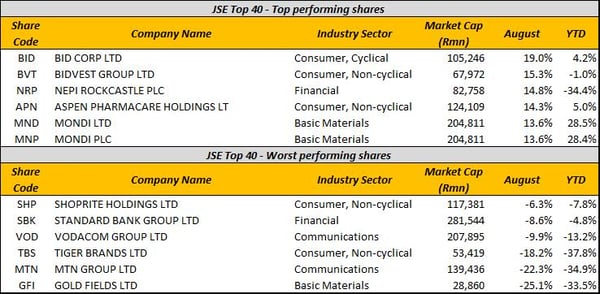 LEVERAGED EQUITY (RFS)
Foreign ETF holdings were the main contributor to a hefty 10.5% gain in August, helped by our position in Mondi and other resources stocks.
LONG- SHORT 140/40 (SJR)
The hedge fund was strongly positive for the month, up 10.9%. Our long holdings in the Nasdaq index tracker and ETF5IT boosted performance, held back slightly by Astral Foods and Shoprite.
UNIT TRUST: IP MOMENTUM EQUITY
Up 5.2% in August, the fund benefited from long holdings in the Satrix S&P500, the Coreshares Global Dividend Aristocrats ETF, and short positions in Astral Foods and Kumba Iron Ore among others.
UNIT TRUST: IP GLOBAL MOMENTUM EQUITY
The fund returned a massive 16.8% in August, getting a strong kick from its holdings in Nvidia, Adobe and Amazon.
EASY EQUITIES BUNDLES
Bundles weighted towards equities did well, following the positive global trend, but more conservative portfolios were dragged down by their weighting in bonds. For the month, at least, "value" stocks lost out to more aggressive growth counters.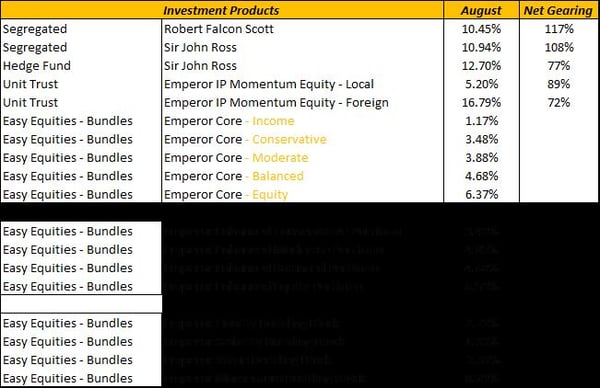 TECHNICAL REVIEW
As you can see from the graph, the JSE All Share index has taken its time this year bouncing off the 50,000 level, but it ended August at 52,464. While nobody can confidently predict the next major move, all eyes are on the 55,000 mark, a serious technical resistance level.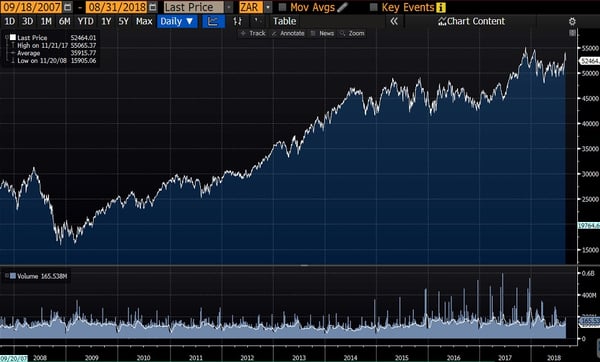 Let's see what September brings - at the time of writing we were anxiously awaiting details from President Cyril Ramaphosa on his economic stimulus plan, further details of which will be laid out in the medium-term budget. In the bigger picture, inflation appears to be under control and the Reserve Bank felt no need to raise interest rates. Hopefully these are the first steps to revitalising an economy and market that have been in the doldrums for far too long.
Happy investing.
Sihle Ndhlala
Junior Fund Manager