Anglo American Platinum (Amplats) is the world's leading primary producer of Platinum Group Metals (PGMs). The products they produce reside in three distinct areas: Platinum Group Metals (platinum, palladium, rhodium, iridium, ruthenium, osmium); base metals (copper, nickel, cobalt sulphate, sodium sulphate, chrome) and precious metals. They have headquarters in Johannesburg, their sales offices are in London and Singapore.
Most of Amplat's sales revenues are in dollars and costs are in rands, this has historically made the share an attractive buy during times when the rand was weakening. SA has over 90% of total global platinum group metals reserves, based on US Geological Survey data. High profile uses of PGMs include jewellery, auto catalytic converters, fuel cells (makes it useful for batteries in cell phones and electric vehicles), air and water purification units, heart pacemakers, computer screens, hard disk and fertilisers.
We currently hold Anglo American Platinum shares in our enhanced range of bundles for its momentum characteristics. The share has delivered a positive 50% return since the beginning of this year, making it the second best performing share in the JSE Top40 index.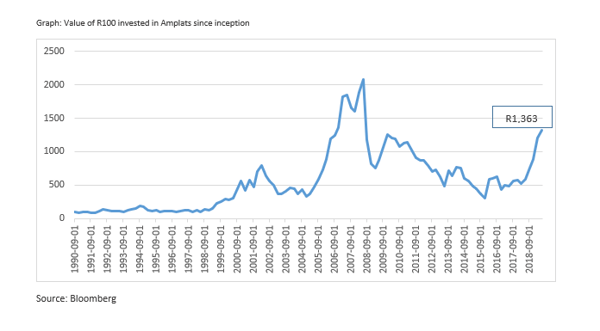 Until Next Time